---
---
I am using HF1. A complete uninstall, format drive, and install from scratch.
I also uninstalled the bonanza, cleaned up and re-installed the new version. I didn't just install "over the top".
I'm not saying my C182 is going to work, but I hope so.
Tony (That's all your getting, like it or lump it)

MSFS i7-7700 Kaby Lake CPU @ 3.60 GHz, 3601 Mhz, 4 Cores (Liquid cooled) Gigabyte B250M-DS3H-CF M/Board 32 Gig DDR4 Ram Nvidia GTX 1080ti 11GB GDDR 5 Win 10 Home Acer Predator XB271HU.
---
Mee too
CM ASUS ROG STRIX Z270F / CPU Intel I7 7700K 4,2 GHz / GTX 1080 STRIX 8 Go/ Mem 4 X 8Go DDR4 skill ripjaws 2400 / FS2020 / FFB2 / quadrant & rudder saiteck / Trackir 5 / A2A: I am waiting
---
I've installed the C172 into P3D v5 using the installer from Just Flight, and updated to v 5.11.0. I can see A2A in the list of addons, however the C172 is not visible in the list of aircraft. I have uninstalled and reinstalled but the same problem persists. Any ideas on how to resolve this?

Thanks,
Raj
---
---
This is great news. I enjoy going back to the roots with the C172 and I can't imagine the 182 is far off for V5.
I'm excited for P3D v5 to mature and stabilize a bit. It's ok but not nearly as stable as V4.5 SP3. Here's my question, if I have V4.5 and V5 on the same box, do I need to remove the A2A C172 from V4.5 to use it in V5? As much as I look forward to V5, sometimes falling back to V4.5 is required for anything serious but I like to experiment with V5 too. Please advise my license rights on this question? Thank you in advance!
Regards,
Jason Tutwiler
---
---
Nick - A2A

wrote:

↑

13 May 2020, 01:54

Hello Raj,

Bear in mind that the C172 is listed under "A2A Cessna" in the "Vehicle title" field. If this doesn't help resolve your issue, please can you start a new topic in the tech support forum for the 172 and let us know what installation path you're using for the aircraft. It gets a bit messy if we try to troubleshoot various different issues in this thread.

Thanks,

Nick
Thanks Nick, I fixed the problem by installing in the default directory
---
Airman Basic
Posts: 6
Joined: 30 Apr 2020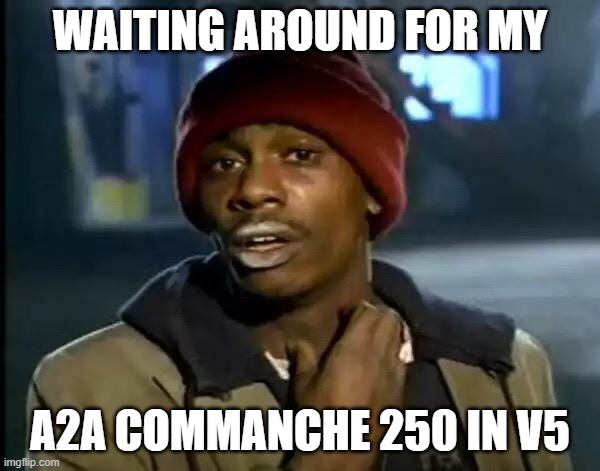 I bought it a couple of weeks ago not realizing it wasn't v5 ready (as I ready uninstalled v4...rookie mistake). Now I am torturing myself with watching all these tutorial flights on youtube and reading the manual over and over again.
---
Hi,
In P3d v4 I had the P-40 Warhawk well operational.
No I am on Prepar3D V5 and I installed a new download of P-40 Warhawk (actually still the V4 version) . In the aircraftselectionwindow the aircraft shows up, but during activation at about 70 % Prepar3D crashes. What can I do?
During installation it created a Documents\Prepar3D V4\Add-ons folder with A2A in it. To connect it to V5 I moved the A2A-folder to the Add-ons folder (inside Documents) of Prepar3D v5. As said, the selectionwindow gives a good result.
Piet de Geus
Netherlands
---
---
I need help with this as well
---
Nick - A2A

wrote:

↑

09 May 2020, 04:56

We'll be sending the first batch of Prepar3D v5 compatible installers to third-party retailers soon. This phased release helps us to better manage support issues with the new platform.

Thanks,

Nick
Nick, please help. I need to transfer my old orders to the new site. What should I do? Thx!
---
---
Who is online
Users browsing this forum: Google [Bot] and 8 guests