Getting rid of the 2D Cloud Layer
EDIT January 2013. Now Stock Issue.
I found a way to remove the 2D cloud layer that is drawn at 19,000 feet in between the high cirrus clouds and the low nimbus puffy clouds.
Folks have been complaining about it for years as being ugly and just a thin 2D layer.
Here is what it looks like close up. Note the ugly look.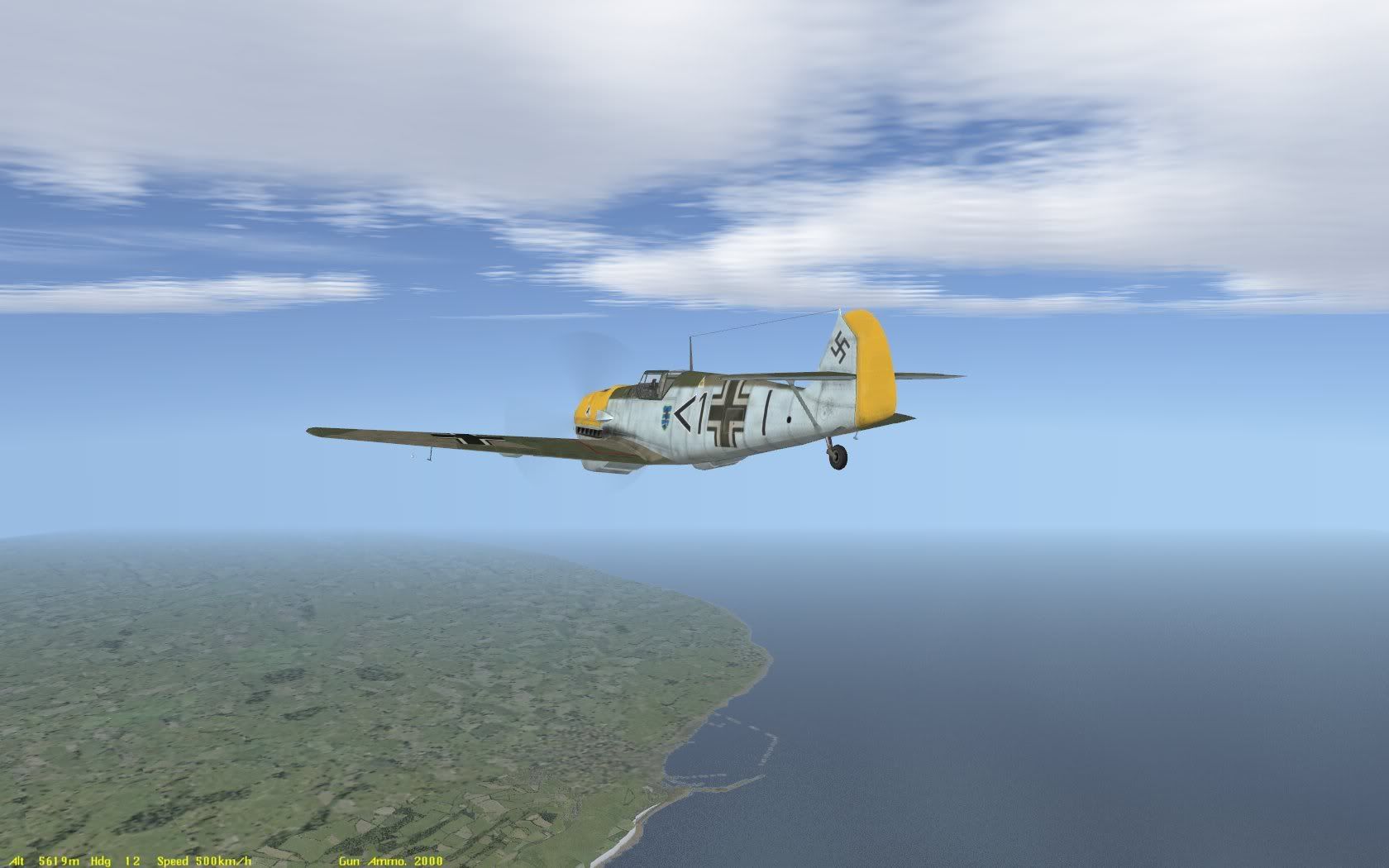 Here is what it looks like after flying up just above it: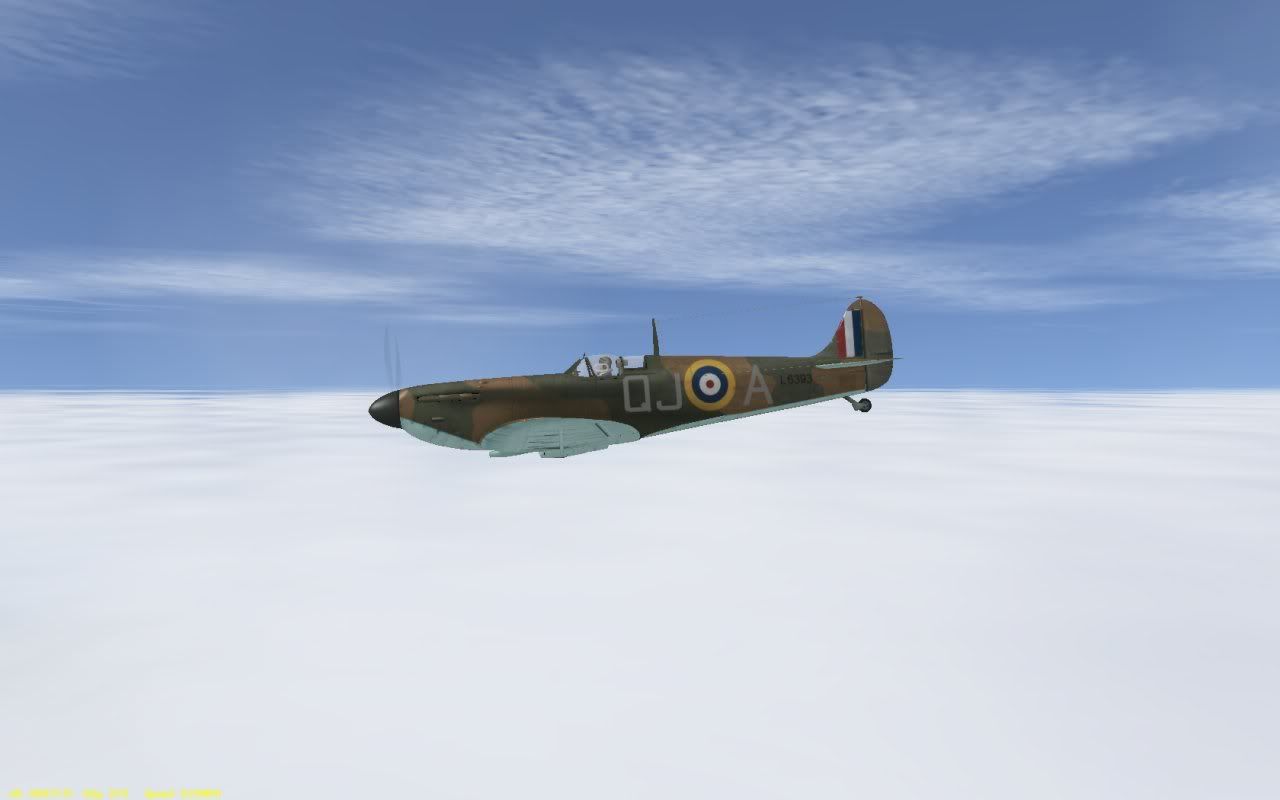 Notes on BoBII clouds:
There are three types of BoBII clouds. Nimbus, cirrus and a "cover" layer that is inbetween the nimbus and cirrus clouds.
The "cover" layer clouds are indeed 2D and are drawn in game at 19,000 feet. These are the clouds you see as a very flat layer, when you fly through it
and is yes, sub-prime, being 2D.
This "cover" layer has no texture that a modder can change, and is coded.
The cirrus clouds are drawn in 2D also, I think, but are way up above any aircraft's altitude ability. Well above 30,000 feet.
The nimbus low clouds are truly 3D and drawn at altitudes 3500 to 12000 feet.
There are four Weather types in BoBII.
Sunny (no clouds)
Fair (high cirrus 2D clouds only)
Poor (cirrus and nimbus clouds both)
Inclement (nimbus and cirrus and rain)
All but Sunny also have that 2D "cover" layer.
What I found is that I can removed that 2D cloud layer by editing some lines in the bdg text file which is in the BoBII root folder.
About halfway down the list are these Cloud_xxxxxx lines. Edit the three CloudCover = values to 0 as shown in yellow:
Cloud_Fair_CloudCover =
0
.000000
Cloud_Fair_CloudDensity = 160.000000
Cloud_Fair_CloudSliceHeight = 3048.000000
Cloud_Poor_CloudCover =
0
.000000
Cloud_Poor_CloudDensity =
140
.000000
Cloud_Poor_NimbusCover = 180.000000
Cloud_Poor_CloudSliceHeight = 1500.000000
Cloud_Inclement_RainStrength = 1.000000
Cloud_Inclement_FogDensity = 1.000000
Cloud_Inclement_FogEndMult = 0.400000
Cloud_Inclement_CloudCover =
0
.000000
Cloud_Inclement_CloudDensity = 254.000000
Cloud_Inclement_CloudSliceHeight = 1500.000000
Cloud_Inclement_NimbusCover = 200.000000
Note the Cloud_Poor_CloudDensity =
140
.000000 which I set to 140 from stock value of 160.
This is not needed to remove the 2D cloud layer, just a side note.
I use 140 as it helps frame rates a little bit. 160 will give you a bit "more" nimbus cloud and may look better.
Any value from 140 to 160 is advised. Whatever looks good and does not slow down frame rates.
Important Note!
After applying this edit, when I first launch BoBII and the very first time I go into an Instant Action mission, I still get the 2D cloud layer.
However, the second time and all times there after when I fly Instant Action missions it is gone.
After quitting BoBII, and the next time I launch BoBII, the first Instant Action mission I fly shows the damn thing again. The next mission flies are OK with it gone.
Campaign is OK, the very first Fly after starting BoBII in Campaign, the 2D cloud layer is gone.
Note that this fix removes the 2D cloud layer in Fair, Poor, and Inclement weather. Some pics with it removed, Poor weather.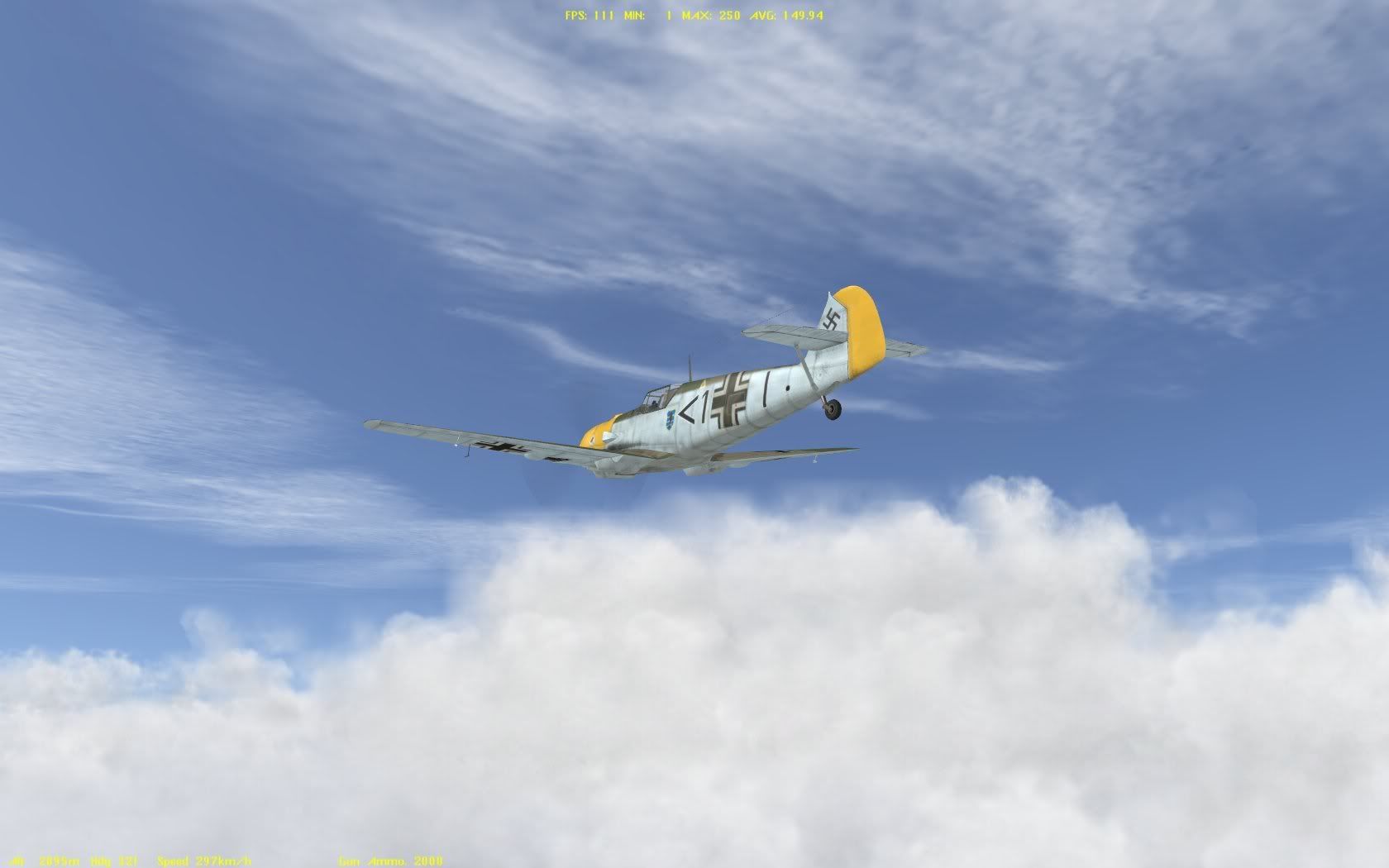 Looking up. Now I see only the cirrus clouds on high, which anyone with artistic ability can re-paint and change.