Whirlybird,
The guy that made the weather effects, also researched the historical weather during the period that BoBII covers.
This weather conditions information can be found on the web fairly easy, because I found day by day accounts of weather conditions when I changed it.
Indeed, it was truly more rainy in July and parts of August, as I recall, than I/we have offered as stock.
Why did I edit out the RAIN phases and replace all of them with POOR?
Some of the BDG thought there was too much rain in the game (or should I call it a simulation?) to be enjoyable to play.
"Aha!" I said.
"So sometimes we should ignore the history, in favor of game play? I suggested that we have
unpredictable, variable weather conditions
, but you UK guys shot that idea down, in the interest of sacred history.
Now you want the historic Campaign weather conditions perverted to be fairer? " I thundered.
"Err, yes... well... in this case only. Sometimes we need to sacrifice History a bit, for Playability." was the reply.
"OK. I agree. Though, I still vote for unpredictable variable Campaign Weather."
Quote:
I did a search on weather and I read that you (I think) did a mod with accurate weather for the specific day of the campaign.
So.. what I did, basically, is change 100% of the RAIN phases to POOR phases, and about 25% of the POOR phases to FAIR.
This was a mod of mine, that was accepted as stock issue. Few of my mods do.
Totally historic, not!
Remember, the POOR weather still gives some of us poor frame rates. RAIN, might as well not fly at all.
Also, making the weather fairer is always to the advantage to the attacking Germans, so I secretly smiled.
Quote:
Is that right and is it a mod that can be installed?

No, it is stock issue from Early WoV BoBII days.
Anyone can easily modify this. It is in the Weather folder, as ye may expect.
Therein be a Campaign config file, which opens with NotePad.
Here is one day where I removed all RAIN, and replaced with POOR, and couple POORs with FAIR: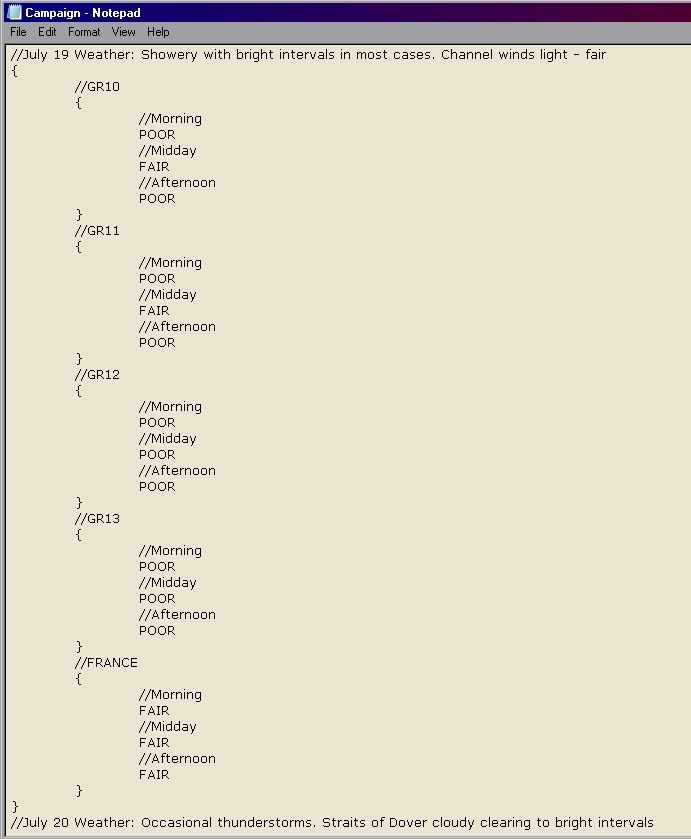 NOTE!
The descriptions of each days weather, I have never edited.
They are as Miro, the original maker of this file, made them, from his research.
Again, anyone can easily edit this Campaign file. I only spent one day "clearing the skies" perverting it!
In all cases, I tried to follow the time of day, and prevailing winds from the Atlantic, considering the given reports,
but what the hell do I know? Being an ignorant Hawai'ian wishes I could play a Merlin Campaign sim at Coral Sea or Midway!
_________________
"Toto! I don't think we are in Kansas anymore!"
Dorothy, OZ
"sniff.. sniff.. Snort! ARF! GGRRRR! ARF! (Tod der stinkenden republikanischen Partei, diesem ignoranten religiösen Monstrum.)"
Toto